Famous Aquarius Celebrities & Eminent Personalities
Oh! The Aquarians! They are in a world of their own. They might even be from a world of their own. I have met a lot of Aquarians in my life. My brother, whom I love dearly, is an Aquarian. Having lived with them, I can say with certainty that they have the capability of ruling and ruining the world. Or maybe they will just not do either because it doesn't matter enough to them. These are people who live on the entire range of the spectrum. Here is a list of the most famous Aquarius celebrities and eminent personalities!
The creativity of these people is unbelievable. No wonder that they are among the most well-known names in the music industry. With men like Harry Styles (One Direction), Ed Sheeran (Shape of You), Justin Timberlake (Can't Stop the Feeling), The Weeknd (Starboy), Khalid (Ocean), Bob Marley (One Love), Maluma (Chantaje), and Billy Joe Armstrong (Green Day), all born under the Aquarius zodiac sign. And don't think the women are anywhere far from this list. Shakira (Hips Don't Lie) and Alicia Keys (Girl on Fire), are both born under the Aquarius astrological sign.
These Aquarians can be found everywhere. Doing what they love is the motto for all of them. And you can tell by watching them that they put their life and soul into their work.
Paul Newman (The Hustler), Patton Oswalt (Young Adult), Christian Bale (The Dark Knight), Clark Gable (Gone with the Wind), Michael C. Hall (Dexter), James Spader (The Blacklist), Ashton Kutcher (That 70s Show), and Joseph Gordon-Levitt (Inception) are all famous Aquarius men in Hollywood.
So many of Hollywood's A-lister women are Aquarians. Jennifer Aniston (F.R.I.E.N.D.S.), Natalie Dormer (Game of Thrones), Uzo Aduba (Orange Is the New Black), Elizabeth Banks (The Hunger Games), Laura Dern (Big Little Lies), Isla Fisher (Wedding Crashers), Kerry Washington (Scandal), and Portia de Rossi (Scandal) are some of the famous Aquarius women in the film industry.
When you give these people a canvas, they will paint wonders. Some of the most well-known and critically acclaimed names in the painting and sculpting world but also in other fields of arts have been attributed to Aquarians. Edouard Manet, E.T.A. Hoffman, Amrita Shergill, Takashi Murakami, Norman Rockwell, John Ruskin, Anders Zorn, Louis Anquetin, and Robert Motherwell, are all Aquarians.
Like I said in the beginning, these people live on the entire spectrum. In this list, you will see some of the shrewdest politicians. Along with them are also politicians who have made a joke out of themselves. Which lens you see them from is up to you to decide.
Dick Cheney (46th Vice President of the United States), Sarah Palin (Former Governor of Alaska), Jeb Bush (Former Governor of Florida), Paul Ryan (Former Speaker of the United States House of Representatives), Moon Jae-in (President of South Korea), and Nikki Haley (Former United States Ambassador to the United Nations) are all on this list.
This list has to start with my favourite Aquarius-Aquarius couple of Ellen DeGeneres and Portis de Rossi. Their marriage is among the relationships we all wish we had. Not only do they complete one another, but they also make each other better.
Although they didn't last long when they were together, the Leo man and Aquarius woman pairing of Justin Theroux and Jennifer Aniston was a fairy tale. So much so, that people have forgotten about Jennifer and Brad Pitt too. Abhishek Bachchan and Aishwarya Rai have made for Bollywood's most love married couple for more than a decade now. Not only do they make for a beautiful couple, but they are also the inspiring couple we need.
If you are still not impressed enough, you will be now. Without going any deeper with words, I will just start dropping names that have marked history.
Abraham Lincoln, 16th U.S. President; Franklin D. Roosevelt, 32nd U.S. President; Ronald Reagan, 40th U.S. President; and Wilhelm II, German Emperor and King of Prussia, are just some of the Aquarius born leaders who dominated the political scene.
Scientists like Galileo Galilei, Thomas Edison, Charles Darwin, Alessandro Volta were all born under the Aquarius sun sign.
Sports stars like Cristiano Ronaldo, Football; Bill Russell and Michael Jordan, Basketball; Nolan Ryan and Babe Ruth, Baseball, are all Aquarians.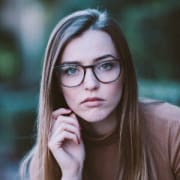 Maria Alifa
Astrologer
Astrologer for 15 years, I have been writing about Zodiac signs, their personalities, their psychology, their relationships, their passionate loves and their compatibility in love.