How to Attract an Aries Woman? My secret tips!
Mars being her ruling planet, the martial qualities are inherent in the native Aries woman. Their cheerfulness and energy make them irresistible. How to make an Aries woman fall in love? What does an Aries woman like and dislike in a man? How to win her heart and pursue a long-term relationship with the woman born under the Aries Zodiac sign?
Here are a few secret tips from astrology that will help you attract the Aries woman!
Stay witty when you text an Aries woman. She loves to engage in intelligent conversions where the other person can woo her with his sharp comebacks. She loves humor and sarcasm. But don't forget to show your support time and again if you wish to gain her trust and confidence. It's okay to flirt a bit but unless in a stable relationship, respecting her interest reflects your chivalry which is quite impressive.
Here are a few text examples you could send her:
rn- "I believe in you!"
"You did a great job!"
"I am so proud of you!"
"Planning to go hiking next weekend. I would love your company!"
"I dreamed of traveling the whole world with you. Where would you dare to start?"
"Would you like to join me on a long drive on the highway?"
"You looked quite ravishing in that dress!"
"I admire your knowledge and dedication to this work."
Independent, hardworking, intelligent yet simple. The Aries female is sensual and quite attractive to her male counterpart for her sheer strength and drive in life. She wants to conquer the world and her warrior qualities makes her quite a catch for someone equally ambitious. She becomes the life of a party just by her ability to grab attention immediately with her warmth and display of passion.
Great communicator. The Aries women love exciting conversations. She doesn't fear initiating a random talk with a stranger. The art of articulation is her strength and she loves a man who can entice her with his gift of the gab. She expects her partner to be smart and intelligent, curious and open. A thirst for knowledge needs to be mirrored by her partner if he has to make a favorable impression on the Aries woman.
Supportive. The fiery Aries woman is bubbling with ideas. She won't hesitate from working hard to materialize her goals. What this means is that she needs someone who believes in her and supports her dreams. She has an amazing ability to inspire her team and be a leader who persistently motivates others. Her independence is hard to ignore and she often feels entitled to live life on her own terms without justifying her actions. Giving her enough space to realize her potential makes one the ideal partner to the Aries woman.
Fun-loving. The energy of the woman born under the Aries Zodiac sign is so explicit that it might require an equally vibrant mate to keep pace with her. She would want to try out new experiments and immerse herself in the perfection of a new art or hobby. Someone who is adventurous and drives her passion is an ideal match for the Aries woman. She needs to feel physically desired as the Aries female is all about her body. Sexual intimacy is important for this female. Hence, while intellectual stimulation holds ground, it advisable to have a sensual approach (based on consent) while dealing with the Aries woman.
Loyal. The Aries woman is protective of her loved ones. She defends her family and friends aggressively. She is looking for a solid commitment from a man or not at all. The Aries woman will rarely struggle to attract those of the opposite sex. If her trust is tampered with, she may become vengeful. Her wrath might just break loose without a warning when her trust is tampered with. She is fiercely demanding of the attention of her partner. Hence, a patient, honest and attentive man will be a great choice for a romantic relationship if it is to last.
Appreciate her. The Aries woman is hardworking. She will relentlessly chase her ambitions. She needs to be the center of attention. Appreciate her for she is less tolerant of harsh criticisms. She wants to feel important or her loyalty drifts elsewhere. She is very strong and her approach to life is to "do or die". She won't mind engaging in PDA if you are open to displaying your affection for her publicly. Like the other fire signs, the Aries woman is gregarious. Neglecting her would amount to a dissatisfied Aries woman who is prone to losing her temper easily.
Treat her equally. The Aries woman often personifies the romantic ideals of equality and freedom. She is confident in her capabilities and doesn't accept defeat in the face of challenges. Her energy is contagious and her dedication is worthy of praise. She won't give in to people-pleasing unless she reaps major benefits out of such an engagement. If you want to woo or impress an Aries woman, take note of the little things that she does and express your compassion towards her. She might often neglect her softer side while trying to make her mark at work or in the home front.
Match her energy. A relationship with an Aries woman may turn highly volatile because of her disparate interests and diversity of engagements. She is actively social. She is highly charged almost throughout the day and unless one can keep up with her trail of thoughts, she is often misunderstood. The Aries woman is livelier when she meets a man who is equally playful and motivated to tread into uncharted territories with her. She is all in with those who offer good vibes and commit steadfastly to make the connection last.
When an Aries woman is interested in you she will long for your company. She wants to know all about you. She pays attention to your likes and dislikes and defends you. While she secretly desires freedom at all times, she may give in to your whims without any protest.
She wants to show you off to her friends and put in all her time in making you happy. She plans getaways with you and randomly escapes with you for surprise lunches or dinners.
She is also desirous of having an intimate connection with you and isn't scared of expressing it. She will focus all her energy in having your attention with her irresistible charm and simplicity.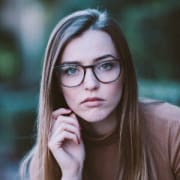 Maria Alifa
Astrologer
Astrologer for 15 years, I have been writing about Zodiac signs, their personalities, their psychology, their relationships, their passionate loves and their compatibility in love.