12 Best Birthday Gifts for a Gemini Woman
Inquisitive, spontaneous, easy-going and creative is the Gemini woman of the Zodiac. Are you looking for the perfect birthday present for your Gemini woman? What do Gemini women like for gifts and presents? How can you surprise her with a meaningful gift?
Here is our gifting-guide with a list of 12 unique gift ideas for a Gemini woman on her birthday, for Christmas or on Valentine's day that will make her feel special!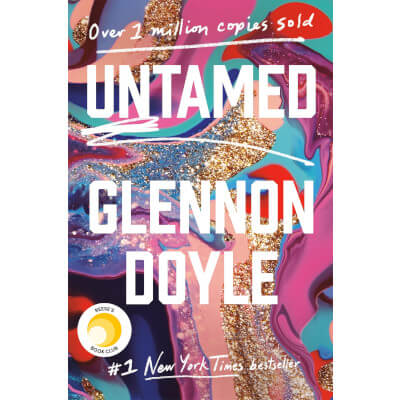 She is sexy, wild, opinionated and free-spirited. There is nothing that holds her back from achieving what she desires except for herself. For the bold woman who dares to follow her heart, this New York Times bestseller is an apt birthday gift. The mercurial woman can also be a voracious reader and this book will definitively not leave her indifferent!
see the book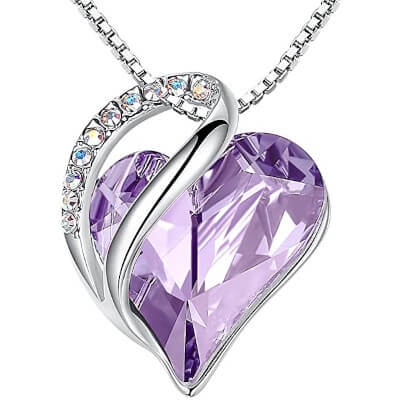 The Gemini woman is a perfect blend of the masculine and feminine energies of the universe. Let this pendant be a charm she can use for her affirmations. A Zodiac pendant for the Gemini woman is a meaningful gift on her birthday as it's a reminder of all that she stands for and what makes her so powerful and unique among the rest of the zodiac signs of astrology. Do add a short note to show her how much you appreciate the qualities about this precious woman in our life. (You can choose between Alexandrite and Emerald).
see the necklace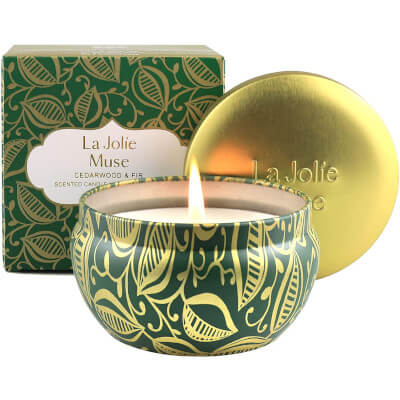 The Gemini woman is often referred to as the tough woman of the Zodiac. She is blunt and shows no qualms when she speaks her heart out. For the Gemini woman who is drawn towards woody scents, this is a great addition to her meditative sessions or just when she needs to relax and lighten up her mood with the fresh aroma of cedarwood fir and cinnamon pumpkin. If the Gemini woman happens to be the love of your life or someone who you wish to woo, just light this candle up when you get cozy. She'll be in the mood for a fun night!
see the candle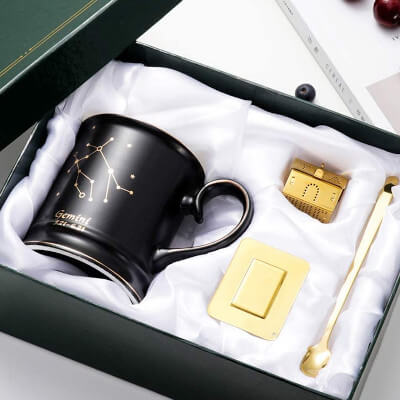 If your Gemini woman loves the feel of ceramics, she will appreciate this tea mug with the Gemini Zodiac constellation printed on it. This beautiful gift set comes with a golden spoon and tea infuser for a perfect tea-drinking experience. The golden appeal adds a royal touch and feel to the mug that's far from the regular, boring tea cup. So, surprise your Gemini woman with this thoughtful gift that is delightfully in sync with her astrological element.
see the mug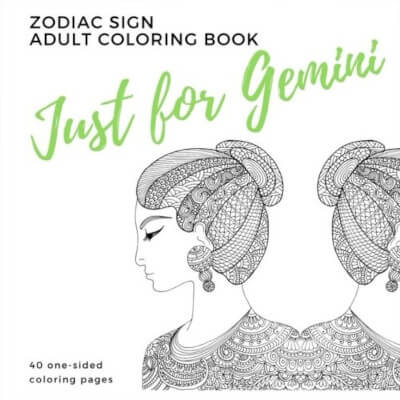 This is a great art therapy book especially designed for the Gemini woman. For the person who can't help but constantly think, this is a smart way to engage her mind while helping her relax and unwind. She'll fall in love with the exciting colors and concept of the book. So, let her put on her creative thinking hat and spend her time doing something fun and soothing.
see the coloring book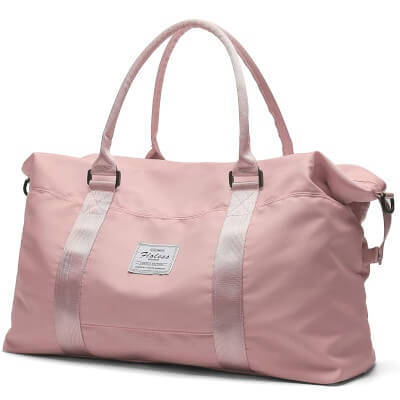 Gemini denotes the third house of the zodiac which deals with short journeys. This means that your Gemini woman would often be hopping on one adventure to the other. This handbag is perfect for travel, gym, and even has space for carrying a laptop. The beautiful pick color adds to the visual appeal of this utility weekender bag. The multiple compartments also ensure that there is enough space for everything she needs on the go.
see the bag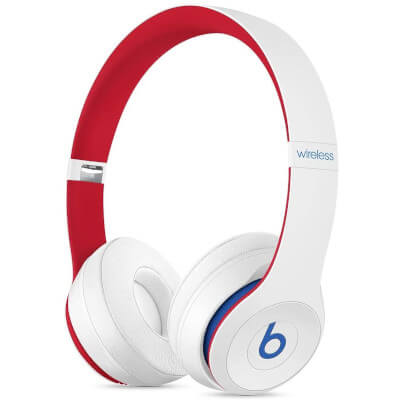 As your Gemini woman is on the move most of the time, this Beats headphone is a great accompaniment to her long journeys. Great entertainment for long-hours, this wireless headphone is fuss-free and easy to carry. Perfect for music lovers, it is compatible with both Apple and Android devices, and it's foldable too. This means it takes less space and with five minutes of charging, it gives a three-hour playback time.
see the headphones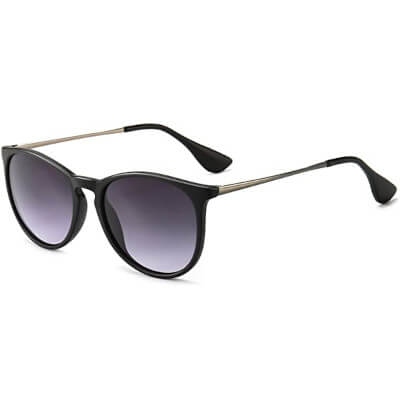 Gemini women could be concerned about their skin as Mercury is representative of human skin. There are seldom moments when the Gemini woman would think of secluding herself from the whole of the world and indulge in activities alone. She is restless and wants to go everywhere. So, let not the harsh sun stop this woman from moving locations no matter what time of day it is. Present her with these pair of stylish and UV protected sunglasses for a comfortable journey for the summer months.
see the sunglasses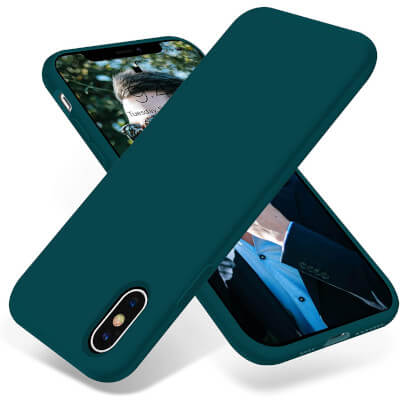 There would rarely be a time when your Gemini woman is off her phone. She is super chatty and tech savvy. However, with some lack in her organizational abilities, she would need a gift that is light-weight and easy to carry. This silicon gel cover for her phone is scratch and shock-proof. So, your Gemini woman is going to find this gift really functional and perfect for daily-use.
see the iPhone case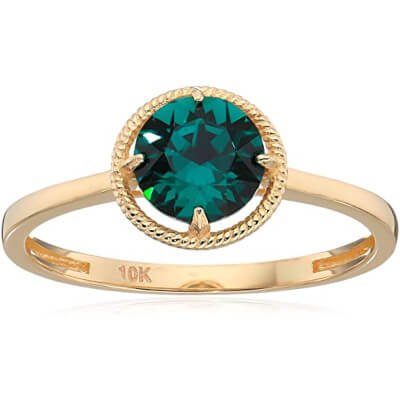 As a Mercury sign, the Gemini zodiac sign represents the hands and fingers. This is why you'll often notice the Gemini woman communicating excessively using her hands to prove her point. So, this gold ring with the birthstone crystal is an ideal gift for her to accessorize her fingers with beautiful jewellery. This elegantly crafted high quality ring would be really appreciated by the birthday girl!
see the ring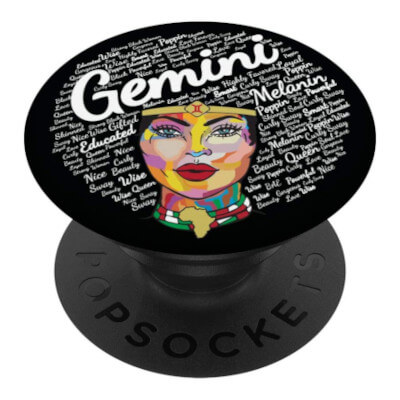 Great for a hands-free experience over the phone or tablet, this popsocket is for the Gemini woman who can't stay off technology. This small, cute gift will help your Gemini woman to use her gadgets without straining her hands. The strong feminine design with bold words that signify her true personality adds a personalized touch to this humble gift for the Gemini woman.
see the popsocket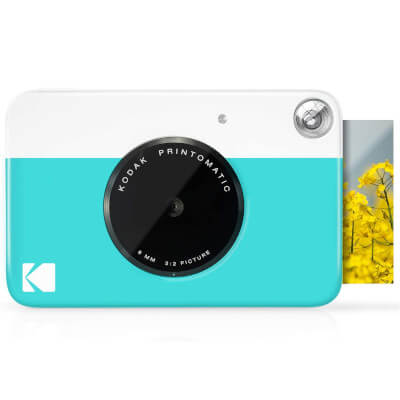 The woman born under the Gemini Zodiac sign is quirky and fun and wants to live her life for the thrill of adventure. With a child-like disposition, the Gemini female loves the bright and colorful gadgets. This Kodak camera is slim, easily fits into one's pocket and is available in a variety of colors. It can instantly print your favorite moments captured and will automatically save your images on a micro SD card.
see the camera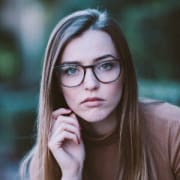 Maria Alifa
Astrologer
Astrologer for 15 years, I have been writing about Zodiac signs, their personalities, their psychology, their relationships, their passionate loves and their compatibility in love.