60 Most Famous Cancer Celebrities & Eminent Personalities
Those shy, sensitive Cancerians aren't just good at being nice to people. It is their sensitivity and emotional maturity that makes the excellent in so many fields. Yet, there is another side to these people which is often not talked about. The intellectuals, geniuses and entrepreneurs, who change the way we see this world. Before you underestimate another Cancer in your life because they are just too nice, here is a list you would like to refer too: the list of the 50 most famous Cancer celebrities and eminent personalities.
All the famous cancer singers and musicians have been some of the key players in bringing about a revolution in the music industry. Among the men are names like Post Malone (Rockstar), Ringo Starr (Beatles), George Michael (Careless Whisper), Carlos Santana (Black Magic Woman), Brian May (Queen), 50 Cent (Candy Shop), and Kris Kristofferson (Why me).
Among the Cancer female musicians are Missy Elliott (Work It), Arianna Grande (Thank You, Next), Linda Ronstadt (Blue Bayou), Cyndi Lauper (Girls Just Wanna Have Fun), Rebecca Black (Friday), and Mariahlynn (Once Upon a Time).
If you couldn't see enough famous names in the singer and musician's category, then you are sure to have your mind blown now. Some of the most promising and legendary names in Hollywood were born under the Cancer zodiac sign.
Chris Pratt (Jurassic World, Guardians of the Galaxy), Nick Offerman (Parks and Recreation), Tom Cruise (Mission Impossible), Kevin Hart (Get Hard), Kevin Bacon (Footloose), Milo Ventimiglia (This is Us), Tom Hanks (Forest Gump), Will Ferrell (Anchorman), and Vin Diesel (Fast and the Furious franchise), are just some of the names that boast of a Cancerian birth.
The list of Cancer actresses begins with the legendary Meryl Streep (Sophie's Choice, The Iron Lady), and goes on with names like Busy Phillips (Dawson's Creek), Pamela Anderson (Baywatch), Lindsay Lohan (Mean Girls), Olivia Munn (X-Men: Apocalypse), Sofia Vergara (Modern Family), and Selena Gomez (Wizards of Waverly Place).
And the Cancerians who didn't find charm in singing and acting painted their emotions. Artists like Frida Kahlo, John Leguizamo, Rembrandt, Gustav Klimt, Peter Paul Rubens, Marc Chagall, and Burt Ward, grace this list. A common theme among all of their work is how well emotions have been captured in their paintings. That is indeed the common thread that binds all Cancer natives, their ability to perceive emotions and feelings in a manner that no other zodiac sign can.
Cancers, with their superior intellect and ability to perceive emotions, have led people since a very long time. Some of the most significant politicians around the world have been Cancers. Leaders like Nelson Mandela, Princess Diana of Wales, and Prince William, Duke of Cambridge, were and are Cancers making a difference in the world. Then there are politicians like Elizabeth Warren, US President George W. Bush and Gerald Ford, Chancellor of Germany Angela Merkel, and Nicola Sturgeon, the First Minister of Scotland.
Now one might think that Cancers can get along with any zodiac sign they want. For the most part, that is true. But I hear a lot of Aries women groaning in the background right now. However, we are not looking at failed Cancerian relationships right now.
We are looking at couples like President George W. Bush (Cancer) and his wife Laura Bush (Scorpio), who have been together for more than 40 years. President Ronald Reagan (Aquarius) and Nancy Reagan (Cancer) who have been the epitome of marital bliss for the longest time.
Paul McCartney (Cancer) and Linda McCartney (Virgo), the happiest of all of Paul McCartney's marriages that ended only with Linda's death.
Prince Charles (Scorpio) and Camilla Parker Bowles (Cancer), a couple that found their way to each other despite being married to other people. it is interesting to note though that Princess Diana was a Cancerian too. A marriage that eventually failed.
Tom Hanks (Cancer) and Rita Wilson (Scorpio), one of the few Hollywood couples to have a long and happy marriage.
And then throughout history, Cancer men and women have left a significant mark on this world. The list includes Alexander the Great, Julius Caesar, Roman politician and military general, King Henry VIII of England, and Giuseppe Garibaldi, Italian general and politician.
Inspirational people like His Holiness the 14th Dalai Lama, Helen Keller, Roald Amundsen, the first man to reach the South Pole, Samuel Colt, inventor and industrialist, Mike Tyson, Boxing Champion, and Alan Turing, considered to be the father of theoretical computer science and artificial intelligence.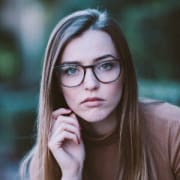 Maria Alifa
Astrologer
Astrologer for 15 years, I have been writing about Zodiac signs, their personalities, their psychology, their relationships, their passionate loves and their compatibility in love.