80 Most Famous Gemini Celebrities & Eminent Personalities
Starting on May 21, Gemini season lasts till June 20. Extremely curious, adaptable and gentle are some of the major characteristics and personality traits of the Gemini natives. They are intelligent, though often inconsistent. No wonder there are so many eminent personalities from this zodiac sign.
Here is a list of the 80 most famous Gemini celebrities and eminent personalities.
Music is an integral part of human lives. We have singers, lyricists, song makers, composers, music directors for this field. Talking about Gemini, these people are communicative, which helps them come up with the lyrics very well. They can create an entire album from a small idea. We have listed some of the most famous musicians and singers from this rising sign.
The famous women in this category include: Lauryn Hill (My Heart Will Go On), Paula Abdul (The Way That You Love Me), Alanis Morissette (All I Really Want), Kylie Minogue ("I Just Can't Get You Out of My Head), Diana DeGarmo (Dreams), Jewel Kilcher (You Were Meant for Me).
The famous Gemini men in this category include: Paul McCartney (Love me Do), Kanye West (The College Dropout), Barry Manilow (Can't Smile Without You), Lenny Kravitz (Where Are We Runnin), Lionel Richie (Endless Love), Ice Cube (In the Late Night Hour), Boy George (Karma Chameleon), Noel Gallagher (Definitely Maybe), Kendrick Lamar (Damn).
Geminis are creatively motivated and have that element of acting in them. Not to miss this great talent, we have a list of famous and successful Gemini actors and actresses.
The famous women in this category include: Judy Garland (The Wizard of Oz), Angelina Jolie (Lara Craft: Tomb Raider), Nicole Kidman (The Hours), Natalie Portman (Star Wars), Heidi Klum (Project Runway), Courteney Cox (Friends), Julianna Margulies (The Good Wife), Zoe Saldana (Guardians of the Galaxy, Star Trek), Helena Bonham Carter (Harry Potter).
The famous men in this category include: Johnny Depp (Pirates of the Caribbean), John Wayne (The Quite Man), Morgan Freeman (The Shawshank Redemption), Stan Laurel (Laurel and Hardy), Tim Alan (Toy Story), Chris Evans (Captain America), Shia LaBeouf (Transformers), Tom Holland (Spiderman: Homecoming), Michael J. Fox (Back To The Future), Ian McKellen (The Lord of the Rings), Liam Neeson (Schindler's List).
Geminis are chilled out people. They don't worry about deadlines and timelines. They like to work with their flow which sparks different levels of creativity within them. Do you know any famous artist or painter who is or was a Gemini?
Here is a list of artists and painters born under the Gemini Zodiac sign: Paul Gauguin (French), Architect Frank Lloyd Wright (American), Georges Prosper Remi (Belgian), Lisa Hanawalt (American), and Richard Long (British).
Here are some of the great and famous Gemini from the world of literature: Anne Frank (Diarist of the Holocaust), Arthur Conan Doyle (Sherlock Holmes), Benjamin Jonson (Every Man in His Humour), Thomas Mann (The Magic Mountain), and Saul Bellow (Humboldt's Gift).
Gemini has many of the current World Leaders and the politicians, few of which are serving the most powerful nations today. Before knowing them, let us see some great names from the past which include some Former Presidents and Prime Ministers, John F. Kennedy (35th President of US), George Bush (41st President of US), Sukarno (1st President of Indonesia), Henry Addington (Former British Prime Minister), Robert Jenkinson (Former British Prime Minister), and Malcolm Fraser (Former Prime Minister of Australia).
Turning to the current scene, the Geminis are Prince Philip, Donald Trump (President of US), Mike Pence (Vice President of US), Xi Jinping (President of the People's Republic of China) and Boris Johnson (British Prime Minister)
We have seen many of the World Leaders already but here are the few honorable names from the History: James I and VI (King of England and Scotland), Queen Victoria (Queen of the United Kingdom), Peter the Great (Russian Tsar), George III (King of Great Britain), Charles II (King of England), Edward I (King of England), George V (King of United Kingdom and Emperor of India) and George I (King of Great Britain).
The Greatest Tennis Player of all time Steffi Graf is also a Gemini. She is the only player to win the Golden Grand Slam and the only player Defended all four Majors on the first try and has 22 Grand slam single wins. Other than this she has many records registered on her name. Few of other big names from tennis are Venus Williams (7 Major), Novak Đoković (17 Major) and Rafael Nadal (19 Major).
To end our list of Famous Geminis her is a bunch of renowned people from the field of science and mathematics, and many Nobel laureates like Carolus Linneus (Father of modern taxonomy), George Stephenson (Father of Railways), Daniel Gabriel Fahrenheit, Francis Crick, Tim Berners-Lee, Blaise Pascal, Igor Sikorsky, John Nash, Andrei Sakharov, Dennis Gabor, John Bardeen, Dorothy Hodgkin and James Clerk Maxwell.
Great and impressive bunch of creative and legendary people, isnt'it?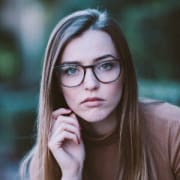 Maria Alifa
Astrologer
Astrologer for 15 years, I have been writing about Zodiac signs, their personalities, their psychology, their relationships, their passionate loves and their compatibility in love.