Libra Love Horoscope 2022 - Predictions for the Year!
The indecisive Libras are probably having a hard time deciding whether this year would be good or bad. Past experience doesn't give much hope for the future. But hey! We have got to keep the optimism alive! And regardless of where you stand on how this year will turn out to be, we are all equally anxious for what lies ahead.
To put your mind at ease (at least a little), here's what astrology predicts the year ahead has in store for you! And who knows? Maybe we'll turn the skeptics of 2022 around as well!
If you were anxious about 2022, then it's time to put that anxiety aside. This is the year for confidence and pro-activeness.
2022 will be the year when your anxiety will take a back seat as you plunge yourself into new and exciting adventures. Be it new opportunities at work or in your personal life, you have got to trust yourself more this year.
The first half of the year until the month June or even July is the most fruitful time for you. Use it to grow and invest, financially and in yourself. The pains you take in the first half will lead to results in the second.
This is also a good year to build better relationships. Take the time to get closer to your family, friends and co-workers. Keep reading for more!
Those Libras who were looking for love will find great successes this year. But let's start by talking about those who have a partner in their life.
2022 is a good year for the Libra love life overall. However, the beginning of the year, especially the months of January, Februay and March, might throw a few challenges your way.
Much like everything else, the key is to understand where your partner is coming from. You might still not agree with them, but make effort to make them see your side of things. More importantly, remember that compromise is always the key.
Now, coming back to those who have been searching for love. Open yourself up to the possibility of finding love in a place you weren't looking for before.
Don't stick to the idealistic version you have in your head. Even if you find the person who matches your fantasy, there is no guarantee they will be compatible with you in reality. Try to understand your emotional needs and start by looking for a partner who complements you.
Libras will be high in demand in the professional market this year.
If you are looking for a job or are planning to make a switch now is the time. However, make sure that you align your skill sets with the requirements of your dream job. Advance training in areas you can improve will be beneficial.
Don't depend only on your professional network to make the jump to your next job. Apply for posts that you feel are a good fit for you, regardless of whether you have a network there or not. The first half of the year is extremely auspicious for this.
There don't seem to be any major financial setback for Libras this year. However, it is important to spend carefully.
Plan your finances in advance and make sure to stick with the plan. I'm not saying that you cut corners in all aspects of your life, but not spending unnecessarily will certainly work in your favor.
Money will flow from different sources. This can lull you into a false sense of security. But this flow will be helpful only if you stay ahead of your finances and plan properly.
Your own health will not cause any concerns. But a member of the family might fall sick during the second half of the year.
To avert such an incident, it would be best to take all measures possible to maintain a healthy life. Don't take any signs of poor health lightly. Seek medical advice as soon as possible. Elderly members are especially at risk.
Investing in your family's health will be a very sound plan. Avoid situations that pose a risk to your health. Take special care of members with comorbidities.
There will be much cause to celebrate with your family this year. Good things are coming your way in the form of marriages and new additions to the family.
However, protect your domestic life from unnecessary misunderstandings by improving communication and taking care of everyone's needs. Identify the people in your family that are sacrificing the most and let them know how much they mean to you and the family. Go out of your way to ease their troubles.
In case of family disputes, try to bring both parties to compromise rather than taking sides.
2022 is a good time to get married. Those looking for a partner for life will certainly find one.
The key is to focus on emotional needs first, mental needs second and physical needs third. Libras are creatures of the brain and the heart. Therefore, it only makes sense to see the person behind the exterior.
If you invest in caring for and understanding your partner, they will reciprocate that effort. But like everything else, it will not help to get frustrated or jump into something out of desperation. Take your time to understand the other person and be honest with them.
2022 will be a good year for Libra. The financial health of the family might cause some worry but nothing that sound planning cannot take care of. Improve your relationships at home and at work. You will need the strength of those around you as much as they need you.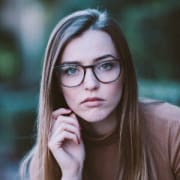 Maria Alifa
Astrologer
Astrologer for 15 years, I have been writing about Zodiac signs, their personalities, their psychology, their relationships, their passionate loves and their compatibility in love.