10 Things a Libra man Likes and Dislikes in a Woman
A Libra man is a die hard romantic in love. He wants someone passionate, bold and vivacious to spend the rest of his life with. Unless he finds his perfect match, he'll keep wandering. So, what is the ideal woman for a Libra man? What are the qualities a Libra man looks for in a woman? What personality traits will make him fall in love? What does he dislike in a relationship? What makes him pull away and what attracts him?
Here are 10 things you need to know about a Libra man's preferences in love, his likes and dislikes!
Symbolized by the Scales, the men born under the Libra Zodiac sign would prefer their lives to be simplified and balanced. Any chaos or unjustified behavior will turn them off. They like a woman who takes a mid-way approach to life and honors his feelings. Extremities of behavior will drain their energy for they cannot afford to engage in unwanted complexities.They are aware of their indecisive tendencies and difficulties of focusing on a single thing for too long. So, unless they find the right person who understands his specific needs and keeps his life stress free, he'll find it hard to commit.
Beauty with brains is the prime criteria for a Libra man to be wooed by the opposite sex. He is smart, creative and talented. Very picky about the people he brings to his closest circle, he wants only the best. Though he attracts people effortlessly because of his brilliant social skills, he wants to surround himself with a woman of intellect. Unless he is charmed by her communication and expanse of knowledge, he may not give in to her efforts to attract him.
He wants to feel proud of the woman in his life. He wants her to be well groomed and paying attention to her appearance all the time. Ruled by Venus, he has strong sexual urges. So, if he is looking for his mate, he'll be drawn towards a woman who looks beautiful and physically appealing. He wants to admire her body and flaunt her in his arms. With an eye for fashion and a keenness for glam and glitter, he will be particular of all the aesthetics and serenity that a woman brings into his life. He'll be repelled if a woman pays no attention to her public image and lacks etiquettes in her everyday conduct.
The air element of the Libra man makes him go places. He has trouble being dedicated to anything for the long haul unless there is a strong promise of the future he dreams of. It is all or nothing for the Libra male and hence, he could be the last person to compromise for something average, especially his love life. So, while the whole world may think of him as crazy and flighty, he wants a woman who trusts him and makes him feel responsible. He needs a woman who can put her blind faith in him and accepts him for his uniqueness.
Order is important for the man born under the Libra Zodiac sign. Though he may not be strictly routine oriented, he desperately feels the need to avoid any mess around himself, especially his private space. Any clumsiness will annoy him easily. He is clearly irritated by someone who may have no sense of time or has trouble setting goals for themselves. He loves ambitious women. He will love being in the company of a true queen who knows what she wants and is precisely committed to achieving her targets.
He is a man of ideas. He is creative and he loves breaking taboos and exploring the uncharted. An uninhibited approach to life is what he lives for. He would hate conforming to something his heart does not allow. If a woman holds highly traditional values and disrespects his need for change, he will be disinterested. He strives for equality and justice in all aspects of life. He is swift and inclined to bring in change that makes his life better and helps him explore greater opportunities to enhance his life. He wants someone who blends in his lifestyle and has the heart to learn and adapt.
The Libra man is a non-conformist. He would never appreciate being told what to do. He'll quickly move on with his life when his partner tries to manipulate him. He loves his freedom and space. If a woman imposes her terms on him and expects him to follow her lead, he may try adjusting for a while before he finds someone who loves him better. He feels lighter around a woman who can patiently handle his temper and let him pursue his dreams just the way he hopes it to be. Unless there is absolute acceptance of his true nature, he may never choose to settle down.
He wants to be adored and admired in love. He wants to feel desired. As much as he longs to chase someone he wishes to court, he shares the same need to feel wanted. Someone who makes him feel special and truly respected will be able to win over the heart of the Libra man. Though the Libra man has a bad reputation for being non-committal, he has an innate desire to settle down with someone when he is serious about that woman. He'll only run away when he is convinced of her dismissal of the person that he is or if he thinks that he is being used in any manner whatsoever.
The Libra man is wild in bed. This guy is high on the idea of romance and making love, especially when he finds someone worthy of his creative efforts. He wants to spoil his woman in bed. If he finds a woman who is equally excited to experiment and have sex in an unconventional manner, he'll make wonderful efforts at making it a beautiful experience. Someone who lacks the passion and fails to seduce him will dilute the chemistry that he expects in his partner.
A fiery persona that dreams big makes herself more attractive to the Libra man. He wants someone who has a zest for achieving something in life. A woman who is driven and passionately seeking at making a mark is tempting to the Libra man. He loves the fast pace of life and someone who keeps up with his thoughts and helps him execute his plans considering relationships and team work will surely win over the Libra man.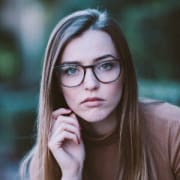 Maria Alifa
Astrologer
Astrologer for 15 years, I have been writing about Zodiac signs, their personalities, their psychology, their relationships, their passionate loves and their compatibility in love.