How to Make a Pisces Woman Fall in Love with You Madly?
Has a Pisces woman charmed you? Have you given into her dreamy and otherworldly charms? Excited, upbeat, mesmerizing, a Pisces woman exhibits an extremely likable personality. Women of this zodiac sign have a magical appeal and it's not easy to resist liking them. Her intriguing feminine grace might have left you spellbound. She might seem complex in the first encounter, but it is in fact not difficult to impress this romantic and affectionate being.
With a little help of astrology and a few secrets I'm going to reveal you, you can decipher the way to her heart. Here are some tips to help you make her fall in love with you like crazy.
Confident men attract her. A Pisces woman has a general liking for man who is not insecure, is strong and takes care of her.
Humor catches her attention. A Pisces woman is humorous and she would enjoy the company of a man who shares similar tastes. The women born under the Pisces zodiac sign look for men who match to their ideals of romance. Kindness, compassion, and displays of affection are appreciated by her.
Appeal to her idea of a Hollywood like romance. A Pisces woman believes in love stories that are inspired from Hollywood classics and for them fairy-tale elements are essential to it. Thoughtfully planned dinner, cards, chocolates, and a walk along the beach- all of these will make her like you extremely.
Gallant gestures impress her the most. Since she believes in movie like love, she is on the constant outlook for her occasions when her ideal man would come to her rescue, defend her or make her feel special.
Don't act needy. Let her need and want you at times. Do not call her too much or reply to texts within seconds. She will miss you and would crave to meet you. Let her miss you for some while.
Mix and mingle with people. Be a part of your group and enjoy the time you are spending with them. There is no harm in posting pictures with your guys group. She will feel jealous for some while, but eventually she will miss your company and want your attention.
Some tips to keep a woman of this astrological sign engaged and interested are:
rn- Exhibit you passion to her. Pisces women are typically romantic and are emotional.
Be romantic with her.
Make her feel wanted, desired and special.
Do not just secure a place at a high end restaurant, try to put in your creativity and effort, when planning something for her. Your efforts will keep her interested and let her know you are serious about the relationship.
It might be difficult to get a Pisces woman to commit initially, but if you allow them enough room to express their opinions, understand them and provide them the personal space they require, Pisces women will reflect on a future with you in a positive manner.
For a Pisces female, strength and independence are two qualities in a man that can get her to commit. These two personality traits will convince them you are their ideal partner.
Honesty is highly appreciated by women of this zodiac sign. If a Pisces woman feels you are honest and open with her, she will not hesitate in committing to you.
A Pisces woman will clearly indicate through her gestures that she likes you and has a soft corner for you in her heart.
She will constantly compliment you. You might find her looking at you lovingly, which surely means you are special for her.
She will act demure and let her guard down, if she likes you. A Pisces female is not hesitant in being silly around da man she trusts and strongly likes.
She will find reasons to meet you, and be around you. She may plan a dinner, or invite you to a get together, or ask you if you are free on a certain day. She would want to see you as she strongly likes you.
If a Pisces woman respects your life decisions, it's a clear sign she is falling for you and trusts you deeply. She will listen to you intently and will support you.
Pisces is one of the most charming and attractive zodiac signs, and women of this zodiac are best paired with a water sign or an earth sign.
Some of the best matches for a Pisces woman are Scorpio, Cancer and Capricorn. Pisces and Scorpio are mutually attracted to each other and the duo shares a close relationship. While with a Capricorn, Pisces makes for a perfect astrological love match. Both of them are imaginative and affectionate. A Cancer- Pisces bond is that of night and day. They are different but their differences help them complete each other.
Libra, Gemini, Sagittarius are not quite compatible with Pisces. With a Libra, Pisces is sure to feel critical differences later in the relationship. Gemini and Pisces if in a relationship, experience issues of infidelity. Sagittarius and Pisces do not experience a fulfilling relationship.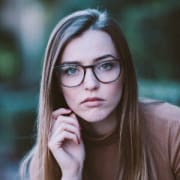 Maria Alifa
Astrologer
Astrologer for 15 years, I have been writing about Zodiac signs, their personalities, their psychology, their relationships, their passionate loves and their compatibility in love.