80 Most Famous Pisces Celebrities & Eminent Personalities
The people born under the Pisces Zodiac sign (Water element) are full of never-ending compassion, kindness, and empathy. They also love anything that excites their creativity, and tend to be amazingly artistic and inventive. There are dozens of famous Pisces men and women in the world, especially in the science, film and music industry.
Here is a list of some of the most famous Pisces celebrities and eminent personalities!
Where to begin with? There are many famous singers and musicians from this zodiac sign. Here are some of our favorites.
The famous women among musicians and singers that are Pisces include: Rihanna (Love the Way You Lie), Carrie Underwood (Before He Cheats), Queen Latifah (All Hail to the Queen), Kesha (Tik Tok), Camila Cabello (Havana), Grimes (Genesis), and Madison Elle Beer (Say It To My Face)
The famous men in this category include: Justin Bieber (Love Yourself), Chris Martin (Coldplay), Billy Corgan (The Smashing Pumpkins), Jon Bon Jovi (Never Say Goodbye), Adam Levine (Maroon 5), Josh Groban (Closer), Robin Thicke (Lost without U), and Jason Aldean (When She Says Baby)
The list of talented actors, males and females, born under the Pisces Zodiac sign can be really long. Have a look, you must be knowing them already.
The famous Pisces women in this category include: Elizabeth Taylor (Butterfield 8), Drew Barrymore (The Wedding Singer), Rachel Weisz (The Mummy), Eva Mendes (The Place Beyond the Pines), Jessica Claire Timberlake (Total Recall), Ellen Page (Juno), Liza Minnelli (Cabaret), Dakota Fanning (Man of Fire), Thora Birch (American Beauty), Sophie Turner (Game of Thrones), and Alexandra Daddario (Percy Jackson).
Among the famous Pisces men that made great careers in films, there are: Lee Marvin (The Sound of Music), Bruce Willis (Die Hard), Michael Caine (Batman Begins), Alan Rickman (Die Hard), David Thewlis (Harry Potter and the Prisoner of Azkaban), Emile Hirsch (The Girl Next Door), Daniel Craig (Casino Royale), Javier Bardem (No entry for Old Men), Edward James Olmos (Blade Runner), Sir Sidney Poitier (To Sir, with Love), and Aamir Khan (Dangal).
Now you must be looking for some really amazing artists from this sign. Don't worry! We have a list of them too. Have a look.
Michelangelo (Italian), Milton Avery (American), Anish Kapoor (British), Pierre Auguste Renoir (French), Piet Mondrian (Dutch), Eric Gill (British), Naoko Takeuchi (Japanese), and Winslow Homer (American).
Some famous writers are Philip Roth (The Professor of Desire), Philip Kerr (If the Dead Rise Not), William Gibson (Neuromancer), and Charles Michael Palahniuk (Choke).
Can Pisces change the world? Absolutely. They have a leadership quality which makes them a great leader. They can handle the power really well.
Pisces have a 4 Former US Presidents like George Washington (1st), James Madison (4th), Andrew Jackson (7th), Grover Cleveland (22nd), and it has also seen some Presidents of other countries too like Robert Mugabe (Former Zimbabwean President), F. W. de Klerk ( Former South African President), José P. Laurel (Former President Of The Philippines), and Naruhito (Emperor of Japan).
It also has 4 Former Prime ministers for the United Kingdom, Neville Chamberlain, Charles Grey, Harold Wilson, William Lamb, Gordon Brown, and also few from other countries like Helen Clark (Former Prime Minister of New Zealand) and John Abbott (Former Prime Minister of Canada).
To add more to this list, the Director-General of the World Health Organization Tedros Adhanom Ghebreyesus is also from the Pisces Zodiac. You've probably heard his name during the Coronavirus COVID-19 pandemic.
As we go back in time, we can find many Pisces men and women who did their bit to make this world a better place with their talent and wisdom.
There are dozens of renowned scientists and inventors who belong to Pisces like Albert Einstein, Rudolf Diesel, Alfred J. Gross, Nicolaus Copernicus, and Alexander Graham Bell. And also the owners of well-known tech giants like Steve Jobs and Michael Dell.
As we have already seen few of the great politicians from the past and present, here are some of the great Emperors from the past, Charles V (Roman Emperor), Constantine the Great (Roman Emperor from 306 to 337 ), Henry II (King of England).
The Pisces astrological sign also counts champions and famous sports persons like Bobby Fischer (Youngest grandmaster Chess) and Anna Mallory (Eight-Time U.S. Open Champion).
And to finish the list, here are interesting names like Yuri Gagarin (The first human to go into space) and Valentina Tereshkova (The first woman to go into space), So you can say that the first man and woman to go into outer space were Pisces.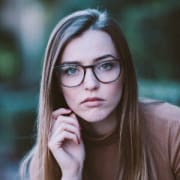 Maria Alifa
Astrologer
Astrologer for 15 years, I have been writing about Zodiac signs, their personalities, their psychology, their relationships, their passionate loves and their compatibility in love.