Famous Scorpio Celebrities & Eminent Personalities
A lot can be said about a zodiac sign by the people who represent it on world-stage. And how can we ignore the amazing feeling of joy and pride we experience when we see that we share a sun sign with our favorite celebrity. But these famous people and eminent personalities not only represent you, but they also represent what a zodiac sign means in this world. Through their contributions, we see how a person of a particular zodiac sign can make the best use of the qualities and abilities bestowed on them by the stars.
The Scorpio zodiac sign represents one of the most mysterious of all astrological signs. These quick to anger and easy to melt people are amazing at using their abilities to make the best out of everything. Very rarely will you come across a Scorpio man or a Scorpio woman who hasn't made it big. They find a way to make themselves known in one way or the other. Don't believe me? Well, I'm sure this list of Scorpios will change your mind. Here's a list of all the most famous Scorpio celebrities and eminent personalities.
The music industry seems to be the one place where it is difficult for the Scorpios to find a place for themselves. However, the gifted few have been able to leave a mark. Famous Scorpio women in music include amazing singers like Katy Perry (Fireworks), Daya (Don't Let Me Down), Lorde (Royals), Carly Rae Jepson (Call Me Maybe!).
DJ-ing seems to be the thing that Scorpio men are the best at. Famous DJs like Diplo and David Guetta are among the famous Scorpio men in music. On the singers' side are Keith Urban, Brad Paisley and Bryan Adams.
When it comes to acting, Scorpios have taken the lead. Some of the most celebrated names in the Hollywood industry were born under the Scorpio zodiac sign. Among these are actors like Ryan Reynolds (Deadpool), Joaquin Phoenix (Joker), David Schwimmer (F.R.I.E.N.D.S.), Matthew McConaughey (Dallas Buyers Club), Leonardo DiCaprio (Titanic), Ryan Gosling (The Notebook), among many other notable names.
Women aren't far behind in the list of Scorpio actresses. Women like Scarlett Johansson (Avengers), Demi Moore (Ghost), Anne Hathaway (Les Miserables), Julia Roberts (Pretty Woman), Emma Stone (The Help), Shailene Woodley (The Divergent), Whoopi Goldberg (The Colour Purple), are among some of the most renowned names in Hollywood that were born under the Scorpio zodiac sign.
Think of the greatest artists that have ever lived. The chances are that you have all thought of a Scorpio. Here is a list of all the famous Scorpio artists. Pablo Picasso, Masashi Kishimoto, Claude Monet, Johannes Vermeer, Georgia O'Keeffe, to name a few.
If you have ever met a Scorpio, male or female, you must have wondered, why don't they take up politics? Their will to do good for everyone, their inspiring personality, and their easy charm, all gives the feel of the ideal politicians. Men and women from across the political spectrum. Hilary Clinton, Joe Biden, Malcolm Turnbull, Robert F. Kennedy, Indira Gandhi, Juan Carlos Romero and several others. The next time you vote for someone, check their Scorpio zodiac sign.
No wonder that these Scorpios get along best when they are together. Kris Jenner and Bruce Jenner, Nick Lachey and Vanessa Minnillo, Linda Evans and Yanni, Ciara and Future, and Phaedra Parks and Apollo Nida. While some of these couples were unable to make it to the end, their love stories inspired many.
The Scorpios have a thing with leaving their mark. Not only across different fields of work, but even time periods. Let's look at some of the most notable Scorpios across history. Scientist Marie Curie; Poet Sylvia Plath; French Queen Marie Antoinette; 26th President of the United States, Theodore Roosevelt; French philosopher, writer and historian, Voltaire; are among the most popular Scorpios of the past.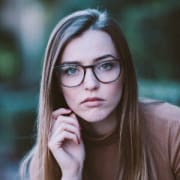 Maria Alifa
Astrologer
Astrologer for 15 years, I have been writing about Zodiac signs, their personalities, their psychology, their relationships, their passionate loves and their compatibility in love.