10 Signs a Libra Man is Not Into You
Symbolized by the scales, the Libra man is all about balance. He is objective and endeavors to judge everything under his own lenses of rationality. The Libra male has an attractive persona which can impress and attracts attention effortlessly. So, how do you know if a Libra man likes you more than a friend? How does the Libra man behave when he has lost interest and is not in love? What are the signs that a Libra man doesn't wish to pursue any love relationship with you?
Here are 10 unmistakable signs that a Libra man is not into you.
When a Libra man is not into you, his social skills may amplify. He loves being in large gatherings and when he is unsure of someone, will resume his search for his true love. The Libra man is calm and patient. He will refrain from exercising any haste when committing to someone in a long-term relationship. He is open to taking chances to find his perfect partner, the one he thinks he deserves rather than settling for the average. His charm is irresistible and he uses it to his advantage to be in the company of multiple women who are interesting and physically appealing.
The need to maintain a perfect balance and peace in life makes the Libra man selfish. He is concerned about ensuring harmony in his life no matter the repercussions. His sense of being just and fair makes it difficult for him to hurt someone directly. In order to avoid confrontations, he might find a quick and easy solution in hiding the truth. What disturbs him about a woman is her lack of grace. In an effort to keep you happy momentarily, he will keep you in a state of limbo. This follows with a creative array of lies till you voluntarily give up on him.
Air signs are able to articulate over myriad issues in order to hook someone in a conversation. The Libra male is intelligent and quite chatty. If your Libra guy is truly mesmerized by you, he will stay in touch. He would take keen interest in knowing all about you so that he can put his best foot forward to make you fall for him. However, if he doesn't consider you worthy of his time, communication fades. You may hear less from him and this proceeds to a state of no-contact. They may also come up with excuses about work and other involvements but know that the Libra man can multitask. If he wanted to, he would.
When a Libra man wants to woo a woman, he will seek her company more often. He wants to be around her and make the most of his time with her. While he doesn't resort to force or aggressiveness, he will use tact to seduce her. When a Libra man avoids catching up with you, he is far from being head over heels in love with you. He isn't sure of making you his priority and hence, doesn't expect any effort from your end too. He understands that frequent meetings may raise hopes and put him in a dilemma which he can't afford. If that's the case, it is a clear sign he is not interested.
The man born under the Libra Zodiac sign is incredibly capable of engaging with someone without any sense of attachment at all. He can maintain his distance and still appear involved, making it sometimes hard to understand his feelings. He is too distracted mentally to focus on something for long. With a short-attention span, he can easily withdraw when someone is remotely attractive to him. He doesn't seek emotional validity and splits his attention to multiple sources. With a fragile ego, he is scared to commit too soon to a woman who doesn't excite his passions. While you may wish for a stable connection, he may only consider you an experiment of his speed dating spree.
When a Libra man is into you, he will show you off. He knows he has chosen the best woman for himself and won't hesitate to be seen or displaying loving gestures in public. The Libra man is a confident individual and when he finds the right person to romance with, his self-esteem doubles up. He does want a relationship that is satisfying and also pleases the person who is close to his heart. However, if one falls short of his expectations, he will shy away from a bold show of his emotions for his partner.
The Libra man is a hopeless romantic who dreams of a family with the woman he is committed to. He is caring and kind and will stay patient with her as long as she reciprocates to the same degree. He loves the finer things in life, looks for the beauty of experiences and is driven by the quality of objects and people alike. In the pursuit of his cherished dream life, he also looks for companionship built on a solid footing. If a Libra man never spoke of a family with you, he has kept his options open. He is just not that into you.
The best way to describe a Libra man's behavior in bed is his innate desire to satisfy the woman. He is a learner, a giver who is willing to try every new technique that could possibly give you the best orgasms. Unless he feels appreciated for all the effort that he makes to fire up your sex life, he won't be half as content. However, if he lacks the intent to care about your needs he doesn't feel deeply connected to you. He still plays hard to get, never initiates foreplay but demands all sexual favors. If sex with you centers around his desires and fantasies rather than a shared activity, he doesn't love you.
When a guy doesn't make the effort to introduce you to his family, you are only a secret and casual engagement which he prefers keeping outside his sacred space. If a libra man kept you out of his close circle and looked for "private" spaces to interact, you were just a side chick. Also, by showcasing his reluctance to meet your friends he has no intention to fall under their scanner in the fear that they might give you a reality check. Also, quite possibly, his conscience doesn't allow him to raise your hopes or build false expectations that he will never keep up with.
If a Libra man was into you and cared for you, he would support you. He would be your nurturer, your ultimate "ride or die". When the Libra man chooses to maintain a distance from your personal struggles and challenges, he has nothing to do with your well being. This is quite unlikely for someone who truly honors you and wants to rightfully claim the spot of being your "shock-absorber". In love, the Libra man refuses to leave your side and motivates you to be the best version of yourself. In the absence of such positive involvement, he is far from being your confidante.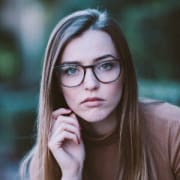 Maria Alifa
Astrologer
Astrologer for 15 years, I have been writing about Zodiac signs, their personalities, their psychology, their relationships, their passionate loves and their compatibility in love.