10 Signs a Libra Woman Secretly Likes You
You're not really sure if she has her eyes on you, so how to tell if a Libra woman likes you? What are the signs that a Libra female is falling in love with you? How does she act and behave when she is truly in love? As Venus rules the zodiac sign Libra, she is utterly romantic and dwells in her idea of a perfect relationship. I'm going to reveal you 10 unmistakable signs that a Libra woman has feelings for you and is interested to be more than a friend.
Being an air sign, a Libra woman rarely has her heart fixated at one place for long. She has a wandering mind that is wild and too split as her longing for adventures can never be put to rest. When a Libra girl likes you, she would need you to give her enough space to explore every corner of this world that garners her interest. Her ability to keep everyone happy is so great that she would want to include you in every plan that she makes so that you never feel left out in her all too social life.
She is a people's person. When a Libra woman finds someone who truly understands her, she will make every little effort to look for his comfort at all times. She will invite you to her place. Being a true empath, she will bend backwards to make you happy, but never at the cost of her independence and peace. Along with being highly people oriented, a Libra woman will equally crave for her personal space. Being intuitive and a lover of both worlds, she knows what to serve to you by understanding your energy on different days. If she is walking that extra mile for you, she is definitely attracted to you.
A libra female has an innately flirty character. It is an extraordinary gift that she possesses. She has the ability to charm any man with her unconventional beauty and attractive smile. She will lure you with her wit. It is difficult to hold a Libra woman's attention for a long time because she has her eyes and ears everywhere. When you see her flirting with you, you definitely have her attention. She has an uncanny ability to attract you in ways you could barely out a finger on. So, when she focuses so much of her energy on equally having your attention, it's a sign she has a crush on you.
In order to bond with you, she needs to be understood. Being a zodiac sign of partnership in astrology, she will always be on the lookout for her perfect partner or soulmate but never settle for someone soon. Don't mistake her flaky character as a flaw in her persona. Because she is self aware, she knows what will never serve her sense of freedom. She is brave and doesn't fear moving away. She doesn't need a partner, but wants one. So, her partnership will never be one of co-dependence but rather equal team work. She is someone who is honest about what she feels so when she is taking the pain of blurting her deepest feelings and experiences to you, you should know that a Libra female has feelings for you.
A libra female purely enjoys sex. She craves for sensual pleasures. So, don't be taken aback if she has the energy for it even after an extremely tiring day. Sex is never boring with a Libra woman. A true adventurer, she loves role play in bed and is always up for variety in sexual positions. She won't stop until there is a mutual climax experienced. She will sext you all throughout the day to have you thinking about her fantasies. If she craves for sex with you over and over again, you are someone she won't be done riding on for the longest time.
She is a hopeless romantic. She would love to kiss you and utter sweet nothings in the most unusual spaces on the face of this earth. She adores PDA. She will catch you off guard and show off her affection for you without the slightest sign of embarrassment. If she reads out erotica to you, goes stargazing with you, plans candlelight dinners and the likes, speaks about a family and plans kids with you, this Libra woman clearly likes you.
She is extremely caring and loving towards those she likes. She is prone to self doubt and never wants to be criticised for her faulty judgements. She would sacrifice her happiness for the sake of the one who is special to her. A Libra woman is ready to give up on her comfort in the interest of a perfect partnership. There is no sign that can use the skill of diplomacy best as a Libra. If she is interested in you, she will plan dates and show up, give you her number and take calls. Even though being rude to anyone is crime like to her, you can easily say she is the least interested if she makes excuses time to time whenever you make a move.
She is a woman who never accepts a man doubtful about a relationship with her. If she is serious about you and decides to invest her time and emotions, she will give in her whole self. She wouldn't mind being her no-so-perfect self in front of you when she feels comfortable and relaxed around you. Dating her is quite serious even though she might pretend like it is all casual. In fact, she is so needy on the inside and trusts the man she likes so much that anything she puts her heart on will take the road to marriage. So, if she is the slightest bit chatty about the bigger picture, you have won her heart.
Anything of beauty attracts her. She never cares about money when it comes to having the finest objects she puts her gaze on. She doesn't mind splurging if she knows something will make you happy. This won't necessarily have to be a special occasion but any day of the year.
In private or public, she lets you take the lead. A Libra girl avoids conflicts at all cost. She is not the kinds who will confront and escalate trouble anywhere. She will let you take charge not only because she finds it hard to be decisive as a result of an all time active guilt conscience but also because she is attracted to a man who can show his confidence and knowledge when the need arises. In fact, if you fail to sweep her off the floor with your charismatic personality, her fluttering heart will swiftly move elsewhere.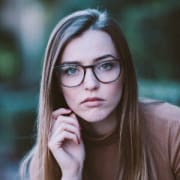 Maria Alifa
Astrologer
Astrologer for 15 years, I have been writing about Zodiac signs, their personalities, their psychology, their relationships, their passionate loves and their compatibility in love.