10 Signs a Sagittarius Woman Secretly Likes You
How does a Sagittarius woman show her interest ? How does she behave when she is in love? Will your match with a Sagittarius woman be fiery enough or will it burn you out? If you are wondering if a Sagittarius woman has a crush on you, astrology can be of great help and give precious advice. This sun sign of the Zodiac, represented by the Archer, is a free spirit. Here are the 10 most noticeable signs that a Sagittarius woman has feelings for you.
A Sagittarius woman is always on the move. She likes keeping things far from complexities. She is always on the lookout for greener pastures, rarely will you find a Sagittarius woman fussing about issues. She is filled with optimism and her intelligence will show you ways that are beyond your sight. Her fearless nature makes her a wanderer, ready to take over the world with her confidence and curiosity. Force her to succumb to pressure and try tying her down, she will slip in between your fingers like quicksand.
She is a go-getter. She is sufficiently convinced in her abilities to do everything on her own. She won't sit back waiting for someone to rescue her. She will involve herself in your life, when she has all the feels for you. Ask nothing from her, she will accomplish everything beyond your imagination. She will have your back so you can depend on her to get things done. She is tireless and will be passionate in her pursuits with you. So, if a relationship is on the cards, it will be an exciting adventure, never stagnant or monotonous.
She will make you burn with intense desire. She will take you on an sexcapade that will take your breath away. While sex can be purely a physical affair for her, if she isn't interested, she wouldn't even exchange a casual glance at you. An absolute lover of men with brains, she won't miss a chance to show you her feelings in the public or private. She knows exactly what she longs for and when she has the right person she wants to make love to, a Sagittarius female is a highly sensual animal in bed. To her, sex is no plain activity. It is rather an adventure that she seeks to get immersed in with all her creativity and might.
Wondering how a person always manages to take so many trips a year? Be around a Sagittarius woman, she will teach you the art of planning trips no matter how caught up she is. Always excited about life, she will inspire you to travel and explore the world with her, travelling to distant lands and expanding her horizons. You will not find a Sagittarius woman stuck in a place for long, so a nomadic life is often best suited for the archer. While she doesn't mind being on her own, if she plans frequent getaways with you without a reason, you have won her heart.
A true friend in a relationship, she will give you the comfort of her availability if you are ever in need of her help. A woman who can survive with the littlest means, she doesn't care about an extravagant lifestyle to survive in this world. She will give you her last morsel if you are in dire need than her. But she won't tolerate a partner who is ridiculously needy. So, when she commits to be there for you and fulfills her promise, she is doing so by staying true to her non- attached character.
Sagittarius women invest their time in people who stimulate their brains, who keep them hungry in the mind. It is difficult to keep up with a woman born under this zodiac sign if you do not possess a fiery spirit and charisma. The Sagittarius woman is undeniably attractive in the way she communicates or presents her thoughts. She can make any man weak in his knees with her conversational skills. Rejecting any dim witted company, she will only go after a man who can keep up with her independence and shares an equal love for knowledge.
Open, honest and trustworthy, this woman cares deeply about the person she fall for. Not the shy kinds, she will be vocal about what she thinks of you. Be prepared to face her lashing at you if you are disrespectful towards her. Truth defines her conduct. She eschews deception and expects complete transparency when she gets involved with a man. When she promises something to you, she will stand her ground. Surprisingly, even when she is able to play by the rules and revolve her thoughts around one person only, she can still remain wonderfully independent.
A Sagittarius woman is so hungry for knowledge that she needs complete information of everything and every person that she gets close to. She means no harm when she does so, so you could trust her with all the information that you give her. Hence, there is no surface level interaction with a Sagittarius woman if she like you or has feelings for you. She is a passionate lover so the more she knows you, the better she is able to make you feel comfortable around her. This is how a Sagittarius female is able to garner a huge crowd of friends in whichever territory she lands.
Connecting with people is an innate quality that a Sagittarius woman possess. A fantastic conversationalist, she can blow your mind with her intellect. Talk to her about anything, she is the "Miss-know-it-all" that everyone admires. A Sagittarius girl is always seeking information and won't stop until her quest is satiated. There are no secrets in her dealings with those she has in her good books and will make you feel at home by interacting with you comfortably no matter the differences in your backgrounds. While the content of her conversations may seem heavily exaggerated, it will never be a waste of time. In fact, a friendship will prefix any relationship that she engages in later.
Always on a spiritual quest, she sees the light in the dark. Hopeful that better things exist instead of sulking over an insurmountable amount of negativity, you will experience renewed vigour in her presence. A wanderer at heart, there can be long spells of singlehood for this female by choice because she chooses her company wisely and well. She has known people from far and wide which has enriched her in brilliant ways. A Sagittarius woman is impartial and knowledgeable, authentic and very honest in human exchanges of passion and emotion. Hence, nothing seems impossible to her as long as you set your whole focus on it.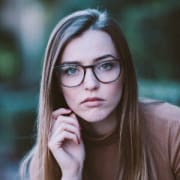 Maria Alifa
Astrologer
Astrologer for 15 years, I have been writing about Zodiac signs, their personalities, their psychology, their relationships, their passionate loves and their compatibility in love.