12 Ways to get a Cancer Man to Chase you
Affectionate and charming, the Cancer man needs a stable and reliable woman in a relationship. Are dating a Cancer man and want to attract him? How to make a Cancer man become obsessed with you? How can you win the heart of a Cancer man and make him fall for you? What makes a Cancer man attracted to a woman? What can astrology reveal about his personality and psychology?
Here are 12 ways to get a Cancer man to chase you and get him addicted to you!
How you present yourself makes a great difference in impressing upon him your charm. The men born under the Cancer Zodiac sign are picky. Their mood swings make it further challenging to hold their attention for long. So, it's important that you dress gracefully and make sure your bosom is highlighted. Cancer men are drawn to a woman's breasts. So, wear clothing that accentuates your best assets to impress and woo him.
You could send him texts to build anticipation for a good time before you meet. Messages like these will drive him crazy about you.
"I can't wait to touch you."
"I love the way you draw me close."
"I had a sexy dream last night. You were fulfilling a fantasy of mine ;)"
"I miss kissing you endlessly. You make me melt!"
"Can we cuddle under the moonlight?"
Cancer men don't beat their own drums. They are selfless givers especially when they are in love with someone. He would proactively go about making your life easy and care about your well being before his own. In return, he would expect acknowledgement and appreciation from his partner. He needs to feel recognized and admired for his efforts.
A deep emotional bond is what a Cancer man wants from a woman. He has a heart of gold and thinks beyond logic. He may seem unreasonable if you seek justification with objectivity. So, you'll need to develop a connection that's compassionate and considerate. He needs to fall for your heart first or else he'll be done with you.
He needs to feel safe around you. If you raise his suspicion or do things behind his back, your Cancer man could give up on you. He wants transparency in the relationship. In order to make him see enough worth in pursuing you, work on a healthy stable lifestyle so that he is sure about building a happily-ever-after with you.
He will like to chase you for some time. So, keep the mystery alive but hold him close with regular communication. Don't play dirty mind games or it will drive home a bad reputation. Slowly build the chemistry with your seductive skills. Gently touch him, especially his chest and his arms. Let the heat soar until it's hard to contain your mutual feelings. Seduction is an art. So, make sure he is engaged and responsive.
It is good to keep sex to the last with the Cancer man. There is some honesty and a genuinely good heart and intention required to conquer the heart of the Cancer male. Remember that he is intuitive. So, a pretentious nature cannot fool him for long. If you know that the Cancer man is your ideal match, flirt with him, seduce him like he is all you need. Show him how much you crave for his presence around you and sometimes, it's okay to show an irresistible desire to invite him into your space.
He is gentle and kind. He'll keep you protected and secure if he cares about you. He'll cook for you, ensure your comfort, and if he is hiding his feelings for you, he would still ensure that you are at peace. Respond to his nurturing traits by being equally involved in his life if he shows a little clinginess or need for care from you.
Your Cancer male needs to feel like a priority. If you treat him like an option, he is likely to feel threatened. Be attentive to his expectations for he may never demand. He has a soft core despite projecting a tough shell on the outside. You can make him happy with little gestures like showing you are grateful for all that he does, making requests rather than speaking in a commanding tone and putting his happiness before yours.
The Cancer man is sensitive, not weak. He will always look upon his loved ones for their support and trust to grow in life. He has a traditionalist approach to relationships so he'll expect a strong backing of his close circle to feel validated. He will truly adore you if you could offer him unconditional support when he is dealing with the trials and tribulations of life.
Communication is the key to a healthy relationship with the Cancer man. He has a delicate mind which thrives best with a loving partner. Cancer men may showcase an emotional outburst upon confronting a difficult choice. Patiently handle his doubts or questions without trashing his opinions or beliefs. Take time to offer him advice unless he has asked for it. Listen to him deeply so that he feels your attention and mindfulness.
Making love with a Cancer man is like a confluence of souls. He wants to explore you slowly and express his adulation for every inch of your body. If you want him to take you to bed, work on your emotional attachment towards him. Be present and look into his eyes deeply. Its great to give sex a pass if your thoughts are diverted, or you want quickies for instant gratification for he'll be extremely disappointed if you treat him casually.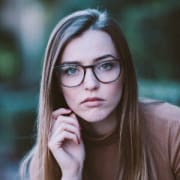 Maria Alifa
Astrologer
Astrologer for 15 years, I have been writing about Zodiac signs, their personalities, their psychology, their relationships, their passionate loves and their compatibility in love.