How to Make a Libra Woman Fall in Love with You Madly?
Belonging to the seventh zodiac, a Libra woman is gifted with a pleasant personality. Did you fall in love and are you under this woman's personality spell? Has she conquered your heart with her graces and intelligence? A Libra woman is smart, intelligent and diplomatic and it is not easy to resist her charms. However, it is difficult for her to surrender in love, but once she feels attracted to and is truly charmed by a man, she is not the kind of woman who would step back.
Here are some tips and secrets from astrology to make a Libra woman fall in love with you like crazy and to help you better understand her psychology!
She is the epitome of balance amongst women of all the zodiacs. Hence she looks for a partner who is complementary to her and shares similar tastes and personality traits.
Supportive men are her ideal kind. Although she is an independent woman, she is most attracted to men who are encouraging and supportive. She appreciates men who are independent like her and who can provide her with the luxuries of life.
She wants her partner to be sensitive and caring. Empathy, emotional intelligence and attention to others are qualities she looks for in a man.
Passionate men are her type. A Libra woman is passionate in whatever she does. And she looks for the same quality in her ideal man. Half measures are not her thing.
The quality and choices of a Libra woman are all well put together. She is selective in what she likes and does not like.
She is fond of elegance. A woman of this zodiac sign is bound to love lavish and fine wining and dining, grand romantic gestures and elaborate surprises. Chivalrous attitude, flowers, a well laid out dinner table are good ways to impress her.
Well groomed men are irresistible for a Libra. If you want to drive a Libra crazy, be impeccable in your appearance as well your mannerisms. Casual dressing is not what is going to impress her.
Play the waiting game to woo her. Do not respond to her calls and messages in a hurry. Responding within seconds kills the interest of the chase. Give her some time to miss you. This will make her crave for your attention.
Give her something that constantly reminds her of you. Maybe a keychain, a scent or something thoughtful that will make her miss you each time she uses or sees the object.
Appealing to her senses and showing her that you can maintain a good balance, are some of the best ways to keep her interested in you.
Understand her artistic soul. A Libra woman highly appreciates beauty and art. Take her to a museum or an art exhibition. Talk to her about your hobbies and artistic pursuits and ask her about hers. This way she will be engaged with you on an extremely deep and personal level.
Be romantic. Women, especially Libras, are extremely fond of romantic gestures. They are huge romantics at heart. Compliment her constantly. Appreciate her and make her feel wanted and loved. This is the key to have a long-term relationship with her.
It might take some time and patience to get a Libra woman to say yes, but it is not an unachievable feat.
Be as fun and spontaneous as she is. A Libra woman likes adventure. And she likes men who share this taste and passion.
Complement her in her spontaneity. Be a part of all the adventures she seeks and show her your playful side. Make her laugh and have fun together. It's a great way to conquer her heart and keep her addicted to you!
Exhibit the positive side of your personality. She is a woman with a sunny disposition. Match her level of optimism and cheerfulness.
Women born under the Libra Zodiac sign do not hide their emotions and feelings. Here are a few signs to know if a Libra woman likes you and is falling for you.
If she flirts with you without hesitation, it's a clear sign she likes you more than a friend. Libra women tend to behave playfully around men they like and feel attracted to. She will participate in the game only if she is really interested in you.
Libra women have a habit of making others wait. They do that for example before saying a yes to a date. Or they do not show up at the date venue on time. But if a Libra woman has feelings for you and is serious about the relationship, she will make it a point to reach on time and will not refuse an offer of a date, or even a casual lunch with you.
If a Libra woman takes initiative, it's also a sign she likes you. If she plans a dinner, a one-on-one romantic evening or something exclusively for you, you know she likes you and wants to impress you.
Libra women match easily with men from most of the zodiac sgns. But they are most compatible with air signs like Gemini and Aquarius.
Aquarius, Gemini and Sagittarius are best matches for a Libra. An Aquarius man and a Libra woman share a fulfilling and rewarding relationship. With a Gemini, a Libra shares the best romantic equation. While a Sagittarius and a Libra complete each other and can form a beautiful couple.
Pisces, Taurus and Cancer are not considered ideal when it comes to love compatibility with a Libra. It is difficult for a Libra to bond on an emotional level with a Cancer, hence the equation can be frictional.
A Pisces-Libra pair starts off well, but is bound to be short-lived. Taurus' lack of patience often annoys the Libra partner, hence there is not a high love compatibility between them.
A Libra woman is not astrologically compatible with a man of the same zodiac sign. As neither the Libra woman nor the Libra man will want to resolve conflicts or complete a task started off by the other partner, this may lead to some problems in the relationship.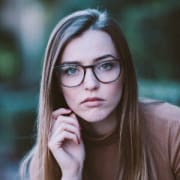 Maria Alifa
Astrologer
Astrologer for 15 years, I have been writing about Zodiac signs, their personalities, their psychology, their relationships, their passionate loves and their compatibility in love.