10 Things to Text a Scorpio Man (to win his heart)
Winning a Scorpio man's heart is not a walk in the park. It is difficult to make his heart melt unless he already harbors some feelings for you. He is secretive, charming, and mysterious. Quite hypnotic, it's hard to ignore the charm of the Scorpio man. What to text a Scorpio guy to attract and seduce him? How to win the heart of a Scorpio man over texts? How to make a Scorpio man fall in love with you?
If you find yourself falling for a Scorpio man, here are a few tips and 10 things to text him to make him go weak for you and pursue you to be his girlfriend:
The man born under the Scorpio Zodiac sign is smart and observant. So, if you wish to serve him some double entendre, go ahead. If he likes you back, he will reciprocate and get playful with you.
It is important to keep it spicy if you want to attract the sensual Scorpio man as he likes vivacious and confident women who can raise some anticipation and experiment in the bedroom with him.
Here are two examples of texts you could send him to show you are sexually interested.
1. "Hey, I am dying to see you tonight. I am trying on the lingerie you bought for me. When would you like to see it? *wink*"
2. "I want to go in for a quick shower. Mind heading straight to the shower with me?"
The Scorpio man is very passionate when he is in love. He is loyal and trustworthy in relationships and therefore, he expects the same from his partner. He likes women who are bold yet loving and kind enough to care about him. He loves to lead but he doesn't mind being spoken to sweetly and with much compassion and care.
Here is what you can text your Scorpio guy to show him that you love him to the moon and back:
3. "Baby, I am the luckiest woman in the world to have you. I can't wait to catch up with you this evening. Meet me soon!"
4. "Love, I cannot imagine my life without you. I wish I had met you sooner. I will never let you go. There is nothing in the world that means to me as much as you do. You are my everything. I love you."
If you are dealing with a rough patch in your relationship with the Scorpio man, don't hold back from telling him the truth and accepting your mistakes. Scorpio men are not too fragile but they do have a huge ego. They can also become stubborn if they have been backstabbed or hurt.
Here are two other messages to send to your Scorpio guy if you want him back:
5. "I am sorry for what I did. I promise to not let you down again. Please forgive me. If I could do things differently I would try and understand you. I am aware of my weaknesses and I assure you that I will work on them. Let's not fight anymore. We can make things alright."
6. "I know that you do a lot for me and all you want is to make me happy and keep me safe. I was mistaken and I misunderstood you in a fit of rage. I am sorry. Please come back to me. I miss you!"
The Scorpio male loves talking about all things sexual. Building the sexual tension with a Scorpio man takes time and he would always expect this to be long and freaky.
Here are two sexy text messages to send to a Scorpio man to make me crave you hard:
7. "Your smell intoxicates me. I wish I could smell you all night long. Don't slog too hard today, we have a lot to work on after you get back home."
8. "If I was with you right now, what would you do to me?"
If you wish that your Scorpio guy chases you and pursues you for the long run, there has to be something more than just the body or your appearance. Think about his growth and motivate him to achieve his goals. Inspire him to grow in life and he will notice how different you are from random women he could have previously encountered.
Here are two things to tell your Scorpio man over text to lift his spirits and furl his dreams:
9. "I believe in your strengths, I know you will make it big. The road to glory is long but never be scared. We are in this together."
10. "You are talented and hard-working. Things could be tough now but they won't be forever. Keep moving ahead and everything will surely fall in place. Have a great day!"
It is certainly difficult to analyze his true feelings because the Scorpio man is generally quiet, calm, and secretive. However, he does leave some signs behind for you to pick on them and plan your moves accordingly.
Here are a few things you should notice if a Scorpio man has feelings for you over text:
rn2. He is quick to respond to all of your messages. 4. He stays in touch with you and wants to know the happenings of your day.
He wants to offer his help if you talk about your problems.
He wants to meet you so he is eager to make plans.
He wants you to be comfortable so he makes adjustments to his plans.
He lets you know about his daily calendar so that you are aware.
He assures you that he is just a text or call away.
He drops sweet and sometimes, hot messages to compliment you and tell you how much he adores you.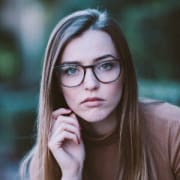 Maria Alifa
Astrologer
Astrologer for 15 years, I have been writing about Zodiac signs, their personalities, their psychology, their relationships, their passionate loves and their compatibility in love.