12 Ways to get an Aquarius Man to Chase you
Aquarius men are fiercely independent and courageous. They need the perfect woman who matches their electric vibe and keeps up with their intellect. How to make an Aquarius man be excited about you? What characteristics and personality traits does an Aquarius man look for in a woman? How to make an Aquarius man become obsessed with you? How to make him miss you like crazy?
Here is a guide to the Aquarius man's personality and everything you should know to attract an Aquarius man, get him to chase you and get him addicted to you!
He loves experimenting. He wants to see you looking your best, wearing clothing that compliments your best assets. Bright colors, especially shades of blue are his favorite. Don't be scared to wear something outrageous if you like it. He hates monotony. So, never let him feel like he knows it all about you. Stay unpredictable to drive him crazy.
Texting dirty to the Aquarius man to set the mood for great sex is the key to keep the Aquarius man interested. It's good to play it risky with this man. Here are a few messages you could send to the Aquarius man:
"I am so tempted to feel your skin right now."
"Tell me what you'd do to me when you get back home tonight, there's a surprise waiting for you!."
"Being choked when you make love to me is my favorite thing to think about."
"Show me you: NAKED!"
"I got some toys to play with? Come over! ;)"
He is the initiator and rarely the finisher. He can impress people with his creativity and knowledge but he definitely needs support for his ideas to materialize. He is bold enough to take risks and suggest wonderful ideas to help you out. If his approach towards you is friendly, make your bond with him even stronger as any relationship for the Aquarius man will start with observing your behavior very carefully, getting his facts checked and taking a step further.
The Aquarius man has a short attention span. He hates wasting time over something for too long. He may seem all over the place and therefore, he will look for a woman who can match up to his energy and reciprocate his desire for change. He would be the last person to stick to a boring routine. So, share activities with your carefree Aquarius man, accompany him on fun adventures and motivate him to pursue you strongly.
No matter how disinterested or aloof the Aquarius man needs to feel when he is around the opposite sex, he will always look for a genuine connection to build a healthy relationship with. It is only when he feels that you are only worth a casual connection, he'll cautiously keep you at a distance. So, keep your integrity and self-esteem intact around him to garner his appreciation.
The Aquarius man is impulsive. He loves playing games controlling his desperation to come close to you and make uninhibited love to you. Draw him close, say sweet nothings and then again push him away to raise the heat. Sex with an Aquarius man is not for the faint-hearted. So, understand what he wants to do to you and give it to him in bits and parts so that his frail interest is sustained.
If you want the Aquarius man to chase you and fall hard for you, pay sincere attention to his expectations from the companionship. If you truly admire him and respect him, he will also make efforts to accommodate and become better each day, just for you. They could be unpredictable and therefore, you should be ready to be his partner in crime. Do what you wish to be reflected back at you.
It is easy for the Aquarius man to ruffle a few feathers when he speaks of things that are unnatural or tabooed. People are quick to judge him for he would always bring to the table 'weird' and unusual solutions to problems. He'll often feel neglected, criticized or left out for his reckless tendencies make people question his knowledge and interests. Be accepting of his uniqueness or just let him be.
The Aquarius man is a bundle of out-of-this-world ideas. When he trusts you enough, he will share his thoughts with you. They want to stand out in the crowd, so anything that's too generic will never pique their interest. They will communicate endlessly if they realize that you show genuine care to understand and appreciate their belief systems.
The Aquarius zodiac is an air sign.They are fast and furious and it's difficult to keep up with their pace. Their knowledge is expansive and they could easily turn to a million different ideas at the same time. He demands that his lover be really smart and upbeat. He is a social man and therefore, he'll need a woman who can relate to his intellectual conversations and share an interesting exchange of ideas.
Aquarius men like to be touched. They love the thrill of building hot chemistry with someone they are attracted to. Their passion will blow over the rooftop when they think you are hot and sultry. It's a good idea to keep intense emotions outside the door when you make love with the Aquarius man. He hates the feeling of being attached or being bogged down by a sense of responsibility. So, as long as you keep it simple yet fun and exciting between the sheets, he'll go bananas over you.
He loves being seduced and enticed not just physically but mentally as well. If you have your way with words and manage to intrigue him with sexy communication, he'll reciprocate to your charm and intimate moves. Spark his interest by telling him about your fantasies and reveal your ideas of lovemaking with the Aquarius man. He needs to feel needed and desired, so don't leave a chance to drive him crazy.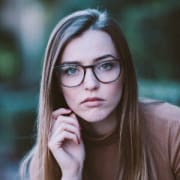 Maria Alifa
Astrologer
Astrologer for 15 years, I have been writing about Zodiac signs, their personalities, their psychology, their relationships, their passionate loves and their compatibility in love.