10 Things a Scorpio man Likes and Dislikes in a Woman
Scorpio is an intense Zodiac sign with strong personality traits. What he expects from a romantic relationship is non-negotiable as he is unapologetically emotional and deeply involved in matters of the heart. So, What does a Scorpio man want in a woman? What qualities does the Scorpio man love or hate? What are Scorpio men attracted to? What is the Scorpio man's best match and ideal partner?
Here is a list of 10 characteristics and personality traits a Scorpio man likes and dislikes in a woman.
The man born under the Scorpio Zodiac sign can have difficulty being around a woman who cannot build trust with him. He could get easily disillusioned by a woman if she is sly and tries to play games with him. He wants to be aware of what she does, her likes and dislikes so that he can be sure of his life partner. He would be dedicated and loyal and expect the same reciprocated when he is in a committed relationship.
A Scorpio man wants his partner to be smart, if not an intellectual. Exciting conversations are a key to attract a Scorpio man and keep him interested. He does place great importance upon the quality of conversations he has with his partner. He is intuitive and can dig deep into someone's life just out of curiosity so he needs an equal who can push him to think more creatively and seduce his mind to make inroads into his physical space.
Scorpio male is sex personified. He enjoys physical pleasures and gets touchy around a woman he may have fallen for or simply desires. He is intensely passionate and loves slow seduction that burns long and bright. He loves a wild and independent woman who knows what she wants and doesn't hesitate to enrich her sex life with him. He wants to be with a creative woman who can make his life vibrant and can handle his dominance and aggressive presence. He loves the surrender during a sexual act as it allows him to violate all rules while he makes love to the woman of his dreams.
Highly emotional and overflowing with romance, the Scorpio man needs an equal who can match his warmth and love. As long as his lover secures his trust and pays attention to his needs, he is a giver. His feelings run too deep and he would hate it if a woman plays with them and hurts him intentionally or unintentionally. The Scorpio man can't be forced to fall in love, so he needs his time and therefore, patience is an important quality that he will look for in a woman.
He can easily start mistrusting his partner if she cannot keep her promises or changes her decisions swiftly. It irritates him when she is all over the place without a clear understanding of what she wants in life. So, focus is something that the Scorpio man would expect his partner to be built with. The Scorpio man wants to marry a strong persona who can relate to him and mystery herself with his goals.
The Scorpio man does like chasing his queen but not forever. He loves unraveling the mystery slowly but if he feels like one among a million options, he would be turned off. His self respect and integrity means everything to him and he would fight for the ones he loves but disloyalty causes him to turn vengeful. He wants to be someone's one and only or enjoy being single with no strings attached. He operates on the extremes so it's all or nothing for the warrior Scorpio.
The Scorpio guy would hate being weak and taking orders from his partner. As long as requests are made and he lovingly does selfless acts to prove his love, he'll be generous both inside and outside the bedroom. However, a loud and dominating woman who demands him to be a certain way will be shown an exit door soon. He wants to seduce his woman and make way into her heart. Call him old fashioned but he would prefer initiating and expressing his love.
The Scorpio man finds women with a purpose more sexy and attractive than a clingy and lethargic personality. He wants to feel motivated and inspired but never be around someone who tries to talk over him and impose her decisions on him. He is quite easy-going in general but if he is triggered by stupidity, he could get emotionally reactive and become aggressive. He wants to feel the fire in a woman and also the calmness in her heart. That's quite an appreciable and well-balanced quality he would expect.
Scorpio men are obsessed about gentle and compassionate souls who are soft-spoken but exude true beauty with their grace. He will fall head over heels for a woman who is kind and capable of handling his temperament or maintaining peace in his life. It frustrates him when a woman is argumentative or loud and never willing to sacrifice for the sake of the greater good in the relationship. He loves the ultra- femininity and delicate nature of a woman because it allows him the space to take charge and lead.
The Scorpio man is a demanding partner. He needs to feel the dedication and devotion of his partner. He could kill to protect and defend what he calls his own. So, Scorpio men are warriors who are supremely possessive and jealous. If they are triggered, they'll cut off people in no time. He expects a high level of understanding with his partner and when he is doubtful about her investment in the relationship, it could be challenging to tame his temper.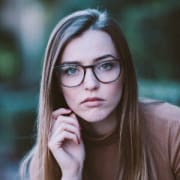 Maria Alifa
Astrologer
Astrologer for 15 years, I have been writing about Zodiac signs, their personalities, their psychology, their relationships, their passionate loves and their compatibility in love.