10 Things to Text a Cancer Man (to win his heart)
To make a great impression on a Cancer man, be genuinely concerned about him without intruding into his space in the early days of the relationship. Stay in touch with him consistently so trust develops slowly. What to text a Cancer man to attract and seduce him? H<span class=""HALYaf" id=""1"" kkjvxb=""><span class=""zRhise""><span a="" class=""PkjLuf" fall="" in="" love="" make="" man="" over="" scorpio="" text="" title=""how" to="" with="" you="">ow to make a Cancer man fall in love with you over text? How to win his heart?
If you find yourself falling for a Cancer man, here are a few tips and 10 things to text him to get his attention, attract him and make him obsessed with you:
Flirting with your Cancer man through text is a great way to win his attention and attract him.
Though he may not explicitly demand it, he desires it deeply. As emotional individuals, Cancer men want to feel special, desired and understood. They hide their passions and fantasies unless they find someone who is trustworthy. However, don't be too explicitly sexual with your him if you want your Cancer man to chase you.
Hey Baby, I've been thinking of you the whole day. Let's Netflix and chill tonight? ;)
I couldn't take my eyes off you last evening. I can only imagine now!
I wish I could feel your arms around me now. I'm sure it feels heavenly!
To make a Cancer man feel loved and cared, show him that he means the most to you. Speaking kindly to him and expressing oneself romantically can help him open up and connect deeply with someone he has the eyes for. Here are some examples of text you can write to him:
How are you doing today? I hope everything is fine and the day looks bright! Have a great day, my Love!
I can't help but think of you every day. I miss you so much!
I want to be home with you. I wish to spend every minute of my life with you.
If you hurt a Cancer man, you should apologize and say I'm sorry. Accept your mistakes. He needs to feel respected and valued in his relationship.
So, if you have made a mistake or disregarded him in any manner, put in good efforts to show him that you are willing to change and make amends. Send him a message like one of these:
"Hey, I think I made a mistake. I shouldn't have done that to you. Will you forgive me?"
"Give me another chance. I know I've hurt your feelings. See me again, please. I'll make up for it!"
"I deeply regret whatever happened between us. I think I deserve another chance. I will never disappoint you again!"
It's important for your Cancer man to know that you appreciate and admire him. He looks for a woman who makes him feel special. He wants to feel like he is your hero!
Cancer men are in for the long haul. They look for someone they can start a family with and bring home to their mom. Show him that you are in awe of who he is and what you feel for him.
"You looked extremely attractive this morning. Makes me jealous who gotta be around you today. Haha!"
"Send me a selfie, will you? I can't wait to see that handsome face of yours."
"You're so kind and humble. I truly appreciate how nice you are to everyone!"
It's important to make your Cancer guy feel like you are interested in his life and his personal growth. While it's fine to engage in light-hearted conversations with him, know that he wants someone who is invested in him.
He is intuitive and he cares a lot about others. He wants the same in return to be sure that he wants to spend the rest of his life with her. You can follow one of these examples:
"Hey Baby, I know you can do this. I am there with you!"
"I am so glad I have someone like you in my life. You're the best thing that has ever happened to me."
"You're so good at what you do. I am so proud of you, Love!"
If you want to know whether the Cancer man has feelings for you and likes you more than a friend, look for the following signs in his behavior. It is not too difficult to know!
He is extremely mushy and sweet around someone he has his eyes for. The Cancer man likes to spend more time at home or in a comfort zone with his lover. So, if he asks you to join him at his place over text, chances are he wants to spend quality time with you.
Cancer men are deeply emotional. When he expresses himself in front of you without filters, it means he is trying to be vulnerable around you. He will tell you how important you are to him and keep you informed about his whereabouts.
He shares secrets with you. When the Cancer man doesn't keep secrets from you and wants to tell you all that transpired in his life, he is building confidence with you. This is a good sign that the Cancer man has caught feelings for you.
He would also ensure that you are well taken care of, and comfortable. He would want to know if you are safe and secure. If your Cancer man sounds too inquisitive or concerned about you, it's a clear sign he is into you.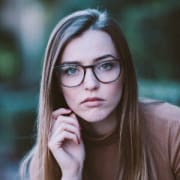 Maria Alifa
Astrologer
Astrologer for 15 years, I have been writing about Zodiac signs, their personalities, their psychology, their relationships, their passionate loves and their compatibility in love.