10 Things to Text a Sagittarius Man (to make him fall for you!)
Sagittarius men are independent and free-spirited. In love and romance, they can be quite unpredictable because of their eccentric nature.
Do you think it's hard to text a Sagittarius man you are interested in? What to message a Sagittarius man to win his heart? How to respond to a Sagittarius man's romantic texts?
If these questions confuse you, don't worry. Here we are with a list of texts you can send your Sagittarius man to make him fall in love with you:
Are you wondering how to turn on your Sagittarius man?
If you wish to turn on a Sagittarius man, make sure you seduce his brain when texting him. This is an important aspect of foreplay with a Sagittarius man for he digs women who are confident to tell him what they want.
Here's what you could text your Sagittarius guy to turn on the heat:
"I can't stop thinking about the things you did to me last night. Meet me tonight. ;)"
"You're the best in bed I've ever had And, I can't wait to lay my hands all over you again."
Do you feel that Sagittarius men are hard to flirt with? Or not really?
If you've recently met a Sagittarius man and wish to give him all the signs that you are attracted to him, here are two examples of messages you can send him right now:
"I can't get you off my mind. I've never been so obsessed over someone!"
"Are you this amazing everyday or am I just the lucky one to see this side of you?"
Praise a Sagittarius male for his successes. He likes people who celebrate him and stroke his ego. And unless you do that well, he wouldn't be thrilled to pursue you in the long run.
What shows your Sagittarius man that you have a crush on him and truly care about him? Here's what you can text him to inspire him:
"I think you are extraordinary. Thanks a lot for coming into my life."
"You've loved me like nobody ever has or will ever. Your love has unlocked my greatest potential."
A Sagittarius man thrives on compliments. He needs to feel desired by the one he loves.
If you want to make a Sagittarius man smile and make him think of you at any time of the day, compliment him generously.
So, how to compliment a Sagittarius man? If you're curious, here are some examples of compliments to conquer his heart:
"You're doing a great job at it. And, I am confident you'll be successful. Good luck, baby!"
"You've accomplished so much this year and you must know how proud you've made me. You're simply the best!"
It's a beautiful gesture to send a positive message to your Sagittarius man before he starts the day. He'll think of you throughout the day no matter how busy he is.
How to make your Sagittarius man's day great? Here are some cute good morning messages to send to your Sagittarius man:
"Good morning hottie! I wish you were here with me right now. Eager to see you tonight. Meet me soon!"
"Before you start the day, let me remind you that I love you the most in the world. Hope you have an awesome day!"
It's nice to have fun with your Sagittarius man because at heart, he is a kid. You must have noticed how fun and creative your Sagittarius man is, haven't you?
Being cool and fun makes him laugh and that's great for a relationship. Strengthen your friendship with your Sagittarius man and he'll be hooked.
Here are some cute and funny messages to send a Sagittarius man:
"You're the most beautiful thing I've laid my eyes on, after my dog."
"If you get yourself checked, the doctor will tell you that you have a bad case of being the sexiest man on this planet. :*"
Have you hurt your Sagittarius man?
Fights are common in relationships. And, if you've hurt your Sagittarius man, it's good to apologize sincerely so he can make up with you.
Here are some heartfelt apology text messages you can send him:
"I know you're hurt and you need space. I respect you and I'm sorry for what happened. Please call me back."
"I love you more than anything else. But I am sorry I crossed the lines. I apologize and this will never happen again, I promise!"
It's nice to be sweet and well-spoken before a Sagittarius man because he loves a good conversationalist.
Sagittarius men love to express their emotions openly in a relationship. To them, love is also an exchange of knowledge and life experiences.
So, when you reciprocate with romantic gestures, you become the mainstay of his life.
How to make your Sagittarius man go crazy about you? Well, here are a few texts to send him:
"I love the way you talk. We should catch up and have some fun? ;)"
"I was planning a trip with you. Does that sound interesting?"
While Sagittarius Zodiac sign isn't the king of romance, they sure have their own ways to woo someone they fancy.
But if you're wondering how a Sagittarius man wants to be treated, the answer is simple: love, passion and space. Here are a few messages to send him:
"I was just watching an adventure series and it reminds me of how free-spirited and bold you are!"
"What do you want to do right away? I am up for a crazy experience with you!"
A Sagittarius man will fall for you if you try to create special moments to lure him. He likes being teased with cute messages or being reminded of good memories.
"I've been thinking of the funniest moment we had together. Can you guess which memory I'm thinking of?
"We met 5 years ago. Can you still remember the very first moment we met?"
Are you having difficulty understanding what the Sagittarius man wants from his ideal woman? In fact, it's not that hard to decipher...
The man born under the Sagittarius Zodiac sign wants to be as close to you as he can when he likes you. So, expect quick responses and calls at odd hours.
He is not quite used to being tied down. That's why Sagittarius men are quite warm over messages. They will woo you with charming words, in ways like no one else does.
When a Sagittarius man is hooked to you, he will text you more often. He will for example send you a quick message before he starts the day or just after finishing work.
So, if you are confused about his feelings for you, check for how often he initiates the conversation over text. That's also a good sign to know if he has feelings for you.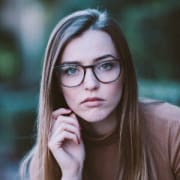 Maria Alifa
Astrologer
Astrologer for 15 years, I have been writing about Zodiac signs, their personalities, their psychology, their relationships, their passionate loves and their compatibility in love.